Engaged In Paradise!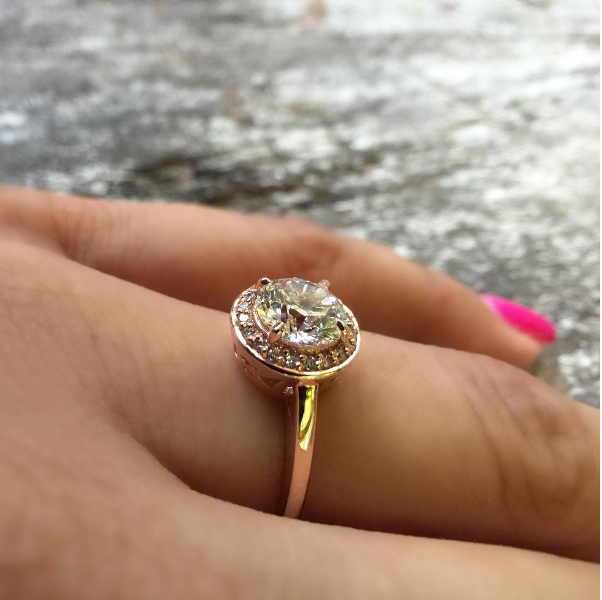 I will preface the story with this: Trevor is the BEST surpriser of all time! Here we go with the long version .. We had always communicated about the future, marriage, kids and all that loveliness within the first 6 months of dating, but beyond that I did not think we would get married until maybe 2020, which is crazy to think about now. Little did I know, by June of 2015, he had already bought the beloved rose gold ring.
We love traveling and, as is tradition for our birthdays we plan a vacation. For Trevor's 33rd birthday we decided to go to Tulum - a beautiful town near Cancun where I have always wanted to visit in Mexico - for a week. To my surprise, he chose Tulum to vacation for his birthday, and pretty much planned the entire trip around my interests (I know I know, that should've tipped me off). Fortunately, before we departed, he asked my father for my hand in marriage and alerted his parents, then... we were off!
We stayed at Sanara Tulum - a beautiful resort devoted to yoga, massage, relaxation, and food - it was so dreamy! We shopped, sipped wine, ate and lounged in the beautiful cabanas and swam in the crystal clear water all week long... It was amazing! The one surprise I did pull off on his birthday was swimming with dolphins (his favorite animal) and gifting Trevor a personalized Mexican chocolate cake handmade by the resort chef. After a wonderful day of dolphins, eating cake and drinking Carmenere wine, the one thing Trevor wanted to do with me on his birthday was go for a sunset beach walk. Unfortunately, by the time the chef brought out the cake sunset had already passed. Still, Trevor in all his smiley glory was very happily surprised with the cake (not showing any nerves at all) and we finally got to embark on our evening beach walk.
Up to that moment we had already had the best day and the evening was equally beautiful. As we strolled south on the beach and enjoyed the most romantic conversation, magically enough, we were heading straight toward an altar where our masseuses from the resort had been married that very night. It was fate! We said we would turn around when we hit the altar and head back to get dinner. As we turned back, Trevor pointed out the horizon and how special the night was as we enjoyed looking at the big beautiful full moon bouncing off the ocean creating a bright ambiance for his birthday night together.
As I was looking off in the distance to my left I felt a tingly feeling in my gut as I turned to my right to grab him for a kiss to see him then land on his knee and pull out his arm with a little white box and hear the words "Elena Kimberly Finch will you marry me?" and I absolutely MELTED with happiness!!! Immediately tears of joy were streaming down my face and I was in complete disbelief laughing, crying and experiencing a million emotions all at once. He actually had to repeat the question 4 times before I could find my voice and scream a resounding "YES!" After the proposal I was blown away by the man at my side. He planned this birthday vacation, which I now knew was devoted entirely to our engagement, he picked out the most stunning rose gold ring with a round diamond and halo - one I had always envisioned for us as we are infinitely united. I was overflowing with how much love I felt for him!!! It was both overwhelming and wonderful, and we partied and celebrated the night away toasting to our future together. The entire night felt like billions of fireworks busrting all around us over and over again. Pure magic!